Preschool Education
This program aims to train students to become teachers equipped with the expertise and practical skills needed to deal with young children and babies. The preschool period is critical as it lays the foundations for later development, which means infant teachers need to have a deep understanding of human beings along with the appropriate technical knowledge and skills. Since the legislative guidelines on kindergartens and nurseries were amended, teachers in some schools must be licensed as both kindergarten and nursery teachers. This program therefore requires students to obtain the Kindergarten First Class Teaching License and the Nursery Teaching Certificate for graduation. Students taking this program will study not only the education of preschool children but also that of older school children and children with special needs in order to foster abilities with a long-term perspective on child development. They can also learn about the local area by studying Kochi's nurseries and parenting support. Students are expected to become preschool education professionals with excellent educational and nursing abilities who can take both theory and best practice into consideration when supporting children's development.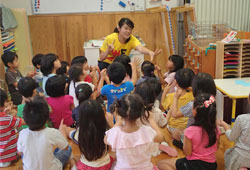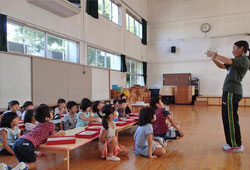 Education Sciences
This program leads to a teacher's license necessary to become an elementary school and a junior high school teacher. More specifically, this program goes into greater depth on special studies in pedagogy and psychology and aims to train students to become teachers who take both theory and practice into consideration. When, in their second year, students become sophomores, they extend their studies and research by writing theses under their supervisor in charge of pedagogy or psychology.
Ten programs leading to teaching licences
Japanese Language / Social Studies / Mathematics / Science / English Language / Music / Arts and Crafts / Health and Physical / Technology / Home Economics
These ten programs lead to teaching licenses.
More specifically, they aim at training students to become teachers with outstanding practical abilities for teaching each subject. They help them deepen their understanding of the theories and acquire the skills required in the making of new teaching materials, the planning and structuring of classes, and the developing of their teaching methods.
Special Needs
This program is aimed at educating students who want specifically to teach children with special needs, including those who are physically or mentally challenged, or are in poor health. Further, this program also provides training for working with children who are visually impaired, hearing impaired, seriously and physically challenged, and those with developmental disorders. The introduction of "Special Needs Education", has meant that children with such special needs such as the visually, aurally and mentally-challenged have been transferred to dedicated schools. In mainstream classes as well, the system of "Individual Support" is now introduced. In line with these developments, this program provides opportunities for students to study the difficulties that children with special needs face in learning and life, along with teaching methods appropriate for each child.
Science and Technology Education
This program combines and enhances the content of the science and technology programs and aims at helping students to acquire expertise in the teaching of both science and technology and in the creating of teaching materials for that purpose. It will aim to enable its students to teach science and technology to elementary-school children and to junior high-school students in order to help them to acquire the knowledge and skills in these fields appropriate for leaders of our future development. Students of the program will take interdisciplinary courses combining science and technology, including for example "Materials", "Energy Transformation" and "Nurturing Living Things". They will be expected to play the role of leaders in the local communities in the fostering of scientific and technological education.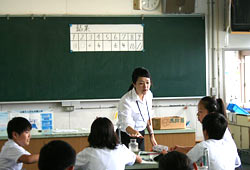 Certificates and Employment that can be acquired in the Teacher Training Division